Programs & Activities for Red Poll Youth
Red Poll Youth Camp, Glen Innes. – The Red Poll Youth Camp is one of the highlights for Red Poll youth on the calendar.  It runs every year over a 3 day weekend in October & I recommend it as the best Cattle camp for young people in Australia.  The Itinerary is jam packed with excellent activities mixed with good fun.  It's held at the Glen Innes Showgrounds & is very well catered for with all participants staying on site.  Quiet young cattle are provided for participants or you can bring your own.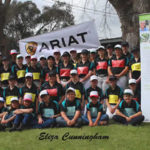 This year there were 38 participants & 38 cattle.  Participants are divided into groups from beginners to the more experienced.  It has great support through sponsorship as well as 'hands on' support from breeders and other experts in the industry.  This camp is ideal for students to attend independently of their teacher support.  Cattle health, show presentation & clipping, judging, & many other skills for showing, judging and looking after cattle are taught.  This year UNE Agricultural School ran a popular segment on meat quality and assessment where meat cuts & taste tests were shown and students from the UNE School of Health provided information on good health.  We aim to have a similar thing with UNE next year.  Participants range in age from 8yo to adults & are divided into groups according to experience.  Many awards are on offer at the camp but the most sort after are the herdsman, most improved and encouragement awards. At the camp we also have the member award who will receive a show box full of show gear and the opportunity to be the youth ambassador, the only requirement is that you must be a member.  For further information phone:  Rachel Hancock on 0432 581 493, Tim Light on 0458 744 552 or Briony Looker on 0488 527 949
Red Poll National Youth Committee –This Committee is a very active group with members ranging in age from 18 – 35 years.  Although the Committee is still in its formative stage it expects to have a strong influence in shaping the development of the Red Poll Breed as well as having a significant role in the show scene .For further information phone:  Rachel Hancock on 0432 581 493 or Briony Looker on 0488 527 949.
Red Poll World Congress – Every 3 years the Red Poll breed has a World Congress.  The Red Poll breed is a small but closely knit group worldwide & it's a great opportunity to share our friendships & cultures through Red Poll cattle.  The tour includes a Conference with Guest Speakers from various sectors of the Industry followed by reports from delegates from their respective countries.  The Breed also uses the opportunity to plan globally for the future.  The next Red Poll World Tour is in the USA next year. It's very well priced as the tour is planned by local Red Poll breeders although a Tour Operator is employed to run it.  For 25 days with most meals, all accommodation, travel & entry fees etc, it's approximately $5,000 double or $4500 triple. I can thoroughly recommend this Tour to anyone although minors would need to be accompanied by an adult.  As the last Tour was in Australia the Red Poll breed sponsored an Australian Youth Ambassador to attend.  Jamaica & Kenya also sponsored Youth Ambassadors.  Unfortunately our breed is not equipped to provide this kind of sponsorship for every World Congress but it does offer sponsorships where it can.  Please contact me at: eurimbla@live.com.au if you would like me to email the Itinerary & Costs.
Royal Shows. –  If there's one breed that is always present at Royal Shows its Red Polls.  Many Red Poll Exhibitors have been showing for years & would only be too happy to mentor any interested student.  The best way to learn anything is by doing it & what better way than having an experienced mentor to help.  Red Poll Exhibitors are always at Sydney, Melbourne, Brisbane, Adelaide & Perth Royals & often at Canberra.  Also many regional shows so either look out for us in the Red Poll section of the cattle shed or give us a call at home before the show starts.
S.A. Heifer Competition – The Red Poll breed offers a scholarship for this camp that includes airfares, entry fee & accommodation.  This camp is well supported by the Red Poll Breeders of S.A., in particular Richard Daley from the Moyle Park Red Poll stud who usually provides a heifer for the participant.  Although this camp is for 8 y.o. – 25 y.o., Richard suggests it's for the more experienced handler. Participants would need to be old enough to stay at the showground under their own supervision or be accompanied by a parent.  A four month Study Tour to North America is the ultimate prize so participants return year after year to improve their skills.  For more information about the scholarship for the event, please contact our Executive Officer, Keryn Hutton on 02 6773 3059
The Australian Red Poll Cattle Breeders Inc. is very pleased to be able to support our breeders of the future.   Scholarships and mentoring are a great way to experience and learn about the industry.  We're also aware of Government & Industry grants and would be happy to offer our support for relevant projects to the breed.
We are delighted and proud to have so many schools in NSW affiliated with the Red Poll breed.  We hope to provide the support and encouragement needed to make your experience with the Red Poll breed an enjoyable one.  Please contact me anytime on:  0488 661 585.
Kind regards,
Jill Coghlan,
President, NSW Branch ARPCB Inc.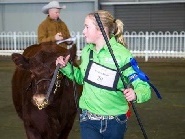 AUSTRALIAN RED POLL CATTLE BREEDERS INC YOUTH AWARDS 2019 The Australian Red Poll Cattle Breeders Inc. will offer a junior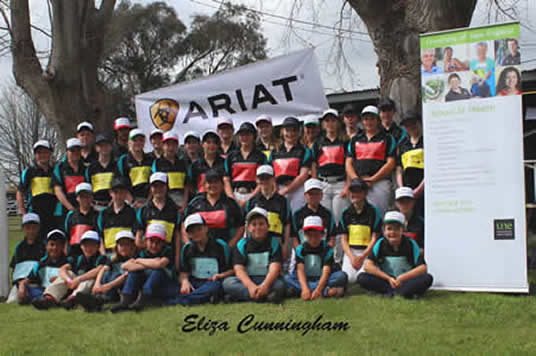 Red Poll Youth Camp, Glen Innes. – The Red Poll Youth Camp is one of the highlights for Red Poll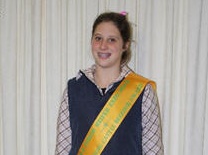 Winner of the 2016 ARPCBI Youth Award Congratulations Cassy Hughes Cassy is from Booleroo Centre in SA's mid north